GROW WITH GOD WOMEN'S CONFERENCE
SATURDAY APRIL 28, 2018
at North Street Christian Church, 220 W. North Street, Butler, PA 16001
REGISTER NOW -- HERE'S HOW
1. Download and/or print the registration form by clicking the REGISTRATION FORM button below
2. Make
check for $15.00 payable to

North Street Christian Church (note Women's Conference in the memo)
3. Mail or drop off payment and form to the church office address listed on the form.
North Street Christian Church
220 W. North Street
Butler, PA 16001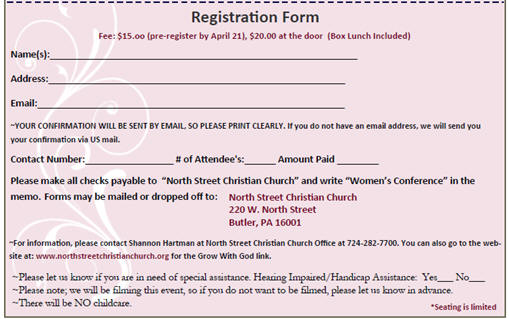 THANK YOU !! WE LOOK FORWARD TO SEEING YOU THERE
Jennifer Cadamore is our guest speaker for the first NSCC Grow With God Women's Conference to be held on Saturday, April 28, 2018 from 9:00 a.m. until 3:00 p.m. A box lunch is included in the registration cost of only $15.00 pre-registration or $20.00 at the door.
Learn more about Carol and her ministry at jennifercadamore.com
For additional information, please contact Shannon Hartman at North Street Christian Church Office at 724-282-7700, or Alishia Cousins at 724-679-3878.